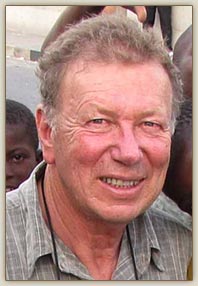 Loel Fenwick received his medical degree from The University of Cape Town, South Africa. He practiced as a general practitioner in South Africa before serving in the Department of Ophthalmic Surgery at the Royal Surrey County Hospital in Guildford, England. He received his residency training in Obstetrics and Gynecology at Sacred Heart Medical Center in Spokane with additional training in embryology and pathology at Harvard University.


During his obstetric residency Loel developed family-centered, single-room maternity care, where families remain in home-like Labor-Delivery-Recovery-Postpartum rooms throughout their maternity stay. This is now the standard maternity system in America and other countries, replacing separate labor, delivery, recovery and nursery rooms. Dr. Fenwick invented various medical devices, including the birthing bed and a newborn resuscitation and stabilization care system. He founded The Borning Corporation, Spokane, WA. Borning manufactured and marketed perinatal equipment and services worldwide before it was acquired by the Hill-Rom company.
Dr. Fenwick was the founder and executive director of The Cybele Society, a professional organization that served 3,000 obstetricians, nurse managers and health care administrators, and led the nationwide change to family-centered, single-room maternity programs in the 1980s. Single-room, conservative physiologic obstetric management reduces medical procedures, complications and length of stay, saving $4 billion each year in the US.
He is currently chairman of Phillips & Fenwick, Inc., a maternity care consulting company that designed and implemented maternity care programs in more than four hundred hospitals in the US, Canada, Europe and China. His most recent patent application is for a web-based portal that allows consumers to access health services and control their choices and savings in a new model of free-enterprise healthcare.
Loel and wife, Olson, are both pilots who live in beautiful North Idaho.